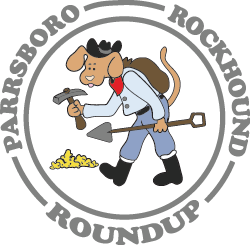 It's Official! The 56th Parrsboro Gem and Mineral Show is On!
BOOK THESE DATES: AUGUST 18, 19, 20, 2023.
DOORS OPEN: 10am to 5pm - Friday, Saturday and Sunday.
ADMISSION: $7.00 per day (weekend pass for $15.00). Children 12 and under free.
Please note that there will be an ATM on site.
We have missed you, and are happy to be planning for a safe and healthy show. Of course, this is all subject to the N.S. Health Protocols in place in August. Should the Re-Opening Phases change, we will let you know our plans.
If you would like to be a Vendor, please contact
Karen Dickinson
. Give a description of your product and you could be considered for the Waiting List.
Since 1966, the Nova Scotia Gem and Mineral Show has been held in the Town of Parrsboro, Nova Scotia, Canada. A showcase for geological treasures, and with over 30 high quality exhibitors of spectacular gems, minerals, jewelry and metalwork, the Nova Scotia Gem and Mineral Show is a very popular family event.
The gem and mineral displays, and specimens for sale, are some of the finest in the Maritimes. A weekend of workshops, geological events and demonstrations let you experience what it's like to work with gems and minerals, or shape a metalwork design. Pan for gold and much more!